SWIMMING DRAGON AND TAMING TIGER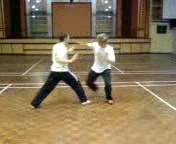 Swimming Dragon and Taming Tiger
The patterns here worked out by Sifu Jordan and Henrick from the "Five-Animal Set" are more sophisticated than the straight-forward punches and kicks of Boxers and Kick-Boxers, and are used by kungfu exponents who use kungfu fighting. This represents the next stage of the development of fighting techniques. Notice that by using stances and body-work they can be faster than Boxers and Kick-Boxers who bounce about.
---
Please click the picture or the caption below to view the video

Swimming Dragon and Taming Tiger from Wong Kiew Kit on Vimeo.
LINKS
Overview
Courses and Classes