FROM LINEAR TO SIDEWAY ATTACKS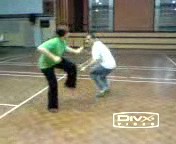 From Linear to Sideway Attacks
The patterns used by Nicky and Ronny and taken from their specialized set, "Dragon Form", are also more sophisticated. The attacks have also moved from linear to sideways. This video clip answers some common doubts of people who think that kungfu patterns are too elaborated, that stances slow down a fighter's action, and that effective fighting consists of punches and kicks like those from Boxing and Kick-Boxing. It also shows that kungfu patterns were evolved from actual fighting.
---
Please click the picture or the caption below to view the video

From Linear to Sideways Attacks from Wong Kiew Kit on Vimeo.
LINKS
Overview
Courses and Classes