SWERVING DRAGON AND PHOENIX-FIST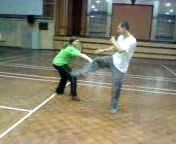 Swerving Dragon and Phoenix-Fist
Nicky makes good use of the swerving movements of the Dragon to handle some sophisticated attacks by Ronny. Her counters are fast, without appearing fast, using the principles "no defence direct counter" and "starting later arriving earlier". She also uses the phoenix-fist. The Phoenix is the female counter-part of the Dragon.
---
Please click the picture or the caption below to view the video

Swerving Dragon and Phoenix-Fist from Wong Kiew Kit on Vimeo.
LINKS
Overview
Courses and Classes