TIGER CLAW AND SINGLE LEGGED CRANE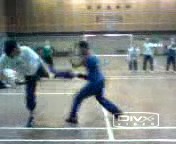 Tiger Claw and Single Legged Crane
Innes and Davie, both from Shaolin Wahnam Scotland, demonstrate some simple yet profound patterns from their specialized set, "Tiger-Crane". Many people may not realize that the first few patterns are Tiger-Claw attacks, which by themselves can put an opponent out of action if internal force is applied at the opponent's vital points. Innes executed a beautiful Tiger-Tail Kick, to which Davie responses effectively due to his good footwork.
---
Please click the picture or the caption below to view the video

Tiger-Claw and Single-Legged Crane from Wong Kiew Kit on Vimeo.
LINKS
Overview
Courses and Classes