BEING FAST WITHOUT APPEARING TO BE FAST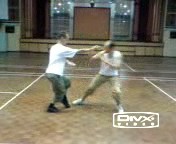 Being Fast Without Appearing to be Fast
Sifu Markus of Shaolin Wahnam Finland uses patterns from "Dragon Form", while Chris from Shaolin Wahnam Scotland uses patterns form "Monkey Set". Sifu Markus is fast, without appearing to be fast, which is of course a high level achievement in kungfu. On the other hand, many movements appear to be fast, but are actually slow. Some examples are flashy high kicks and vigorous bouncing about.
---
Please click the picture or the caption below to view the video

Being Fast Without Appearing to be Fast from Wong Kiew Kit on Vimeo.
LINKS
Overview
Courses and Classes