COUNTER AGAINST THE LIFT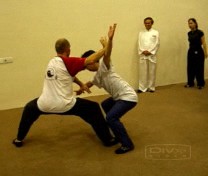 Counter against the Lift
A good counter against the "lift" is the Shaolin pattern "Butterflies Flying Separately" ("Wu Tip Fan Fei"), as shown in the video clip. Sifu Kai explains that one may strike the opponent with an elbow, but this may enable the opponent to strike back instead. Wrestlers may not pay importance to this possiblity of counter-attack because they are protected by safety rules, but kungfu exponents should.
---
Please click the picture or the caption to view the video

Counters against Wrestling -- Part 2 from Wong Kiew Kit on Vimeo.
LINKS
Overview
Courses and Classes