COUNTERING WRESTLING HOLDS — GOLD COIN SPINNING ON GROUND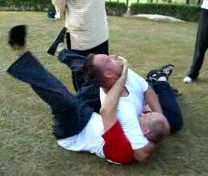 Gold Coin Spinning on Ground
Many people erroneously think that kungfu is lacking in floor fighting. In this and subsequent video clips Sifu Kai shows a rich array of kungfu techniques in overcoming these seemingly inescapable wrestling holds. Sifu Anton Skafar pin Sifu Kai to the floor with the pattern "Lohan Taking a Noon Nap".
Sifu Kai uses his One-Finger Zen to press at a vital point, causing the opponent to loosen his grip. Then Sifu Kai pushes up at Sifu Anton's chin and swings his leg around Sifu Anton's head using the pattern "Gold Coin Spinning on Ground" ("Kam Cheen Lok Teia"). Now Sifu Kai has reversed the combat situation.
---
Please click the picture or the caption to view the video

Counters against Wrestling -- Part 10 from Wong Kiew Kit on Vimeo.
LINKS
Overview
Courses and Classes