COUNTERING WRESTLING HOLDS — NAUGHTY MONKEY ROLLS ON GROUND (1)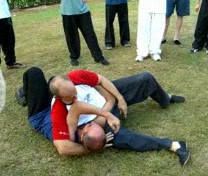 Naughty Monkey Rolls on Ground (1)
Sifu Attilio pins Sifu Kai to the floor using "Frog Crouches on Ground". Sifu Kai first attempts to use "Crap Overturns Body" to overcome the wrestling hold. But despite being a heavy weight, Sifu Attilio is very relaxed, making it difficult for Sifu Kai to flip him over.
So Sifu Kai changes to another kungfu technique using the pattern "Naughty Monkey Rolls on Ground" to turn Sifu Attilio over. Sifu Kai explains that being relaxed is very important in wrestling too. This may come as a big surprise to those who think one only has to use heavy weight and muscular strength in wrestling.
---
Please click the picture or the caption to view the video

Counters against Wrestling -- Part 12 from Wong Kiew Kit on Vimeo.
LINKS
Overview
Courses and Classes