WEIGHT AND SIZE ARE NOT DECISIVE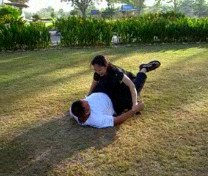 Weight and Size are Not Decisive
If you think that mere weight and muscular strength are decisive factors in combat, here is an excellent example showing that in kungfu even when countering massive wrestlers, this is not necessarily so. In this practice session where participants learn to counter the wrestling hold similar to "Lohan Riding Dragon", Sifu Anton Skafar who is the biggest and heaviest of the group pairs with Sifu Emiko Hsuen, who is the smallest in size and the lightest. Using appropriate technique and internal force, Sifu Emiko skillfully flips over her massive exponent.
---
Please click the picture or the caption to view the video

Counters against Wrestling -- Part 15 from Wong Kiew Kit on Vimeo.
LINKS
Overview
Courses and Classes