VIDEOS ON COUNTERS AGAINST WRESTLING -- OVERVIEW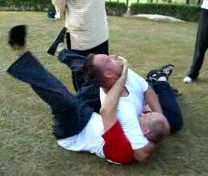 Sifu Kai demonstrating a counter against a Wrestling hold
---
---
In this Advanced Combined Shaolin-Taijiquan Course, Sifu Kai Uwe Jettkandt taught course participants how to counter against Wrestling lifts, shoots and pin-downs.
A wrestler uses lifts or shoots to take his opponent down, then subdues the opponent with pin-downs. There are many Shaolin techniques to counter these Wrestling attacks.
Grandmaster Wong reminded the class that wrestling was a sport protected by safety rules. Without these safety rules, wrestlers would be exposed to dangerous counter-attacks.
---
Click on the topics below to enter.
LINKS
Counters against Wrestling
Courses and Classes