WRESTLING HOLD — FROG CROUCHING ON GROUND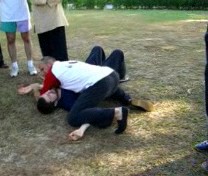 Frog Crouching on Ground
Sifu Kai demonstrates another wrestling technique to pin an opponent on the floor. This pattern is known in Shaolin Kungfu as "Frog Crouching on Ground". Sifu Kai's body prevents the opponent's legs from kicking up. He could also break the opponent's arm or elbow his temple. How would you get out of this precarious situation?
---
Please click the picture or the caption to view the video

Counters against Wrestling — Part 7 from Wong Kiew Kit on Vimeo.
LINKS
Overview
Courses and Classes