WRESTLING HOLD — LOHAN RIDING DRAGON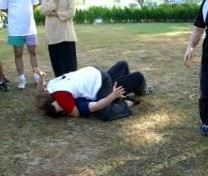 Lohan Riding Dragon
A third position in wrestling to pin an opponent to the ground is to sit astride him. This pattern is known in Shaolin Kungfu as "Lohan Riding Dragon" ("Lor Hon Kea Loong"). You can then strike him on his head or chest.
The size of the video clip is 2.57 MB.
Click here to download.
LINKS
Overview
Courses and Classes