OLD MAN PUSHES CART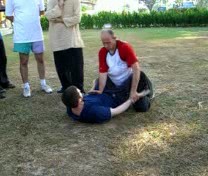 Old Man Pushes Cart
From sitting astride, Sifu Kai moves beyond the opponent's legs and pins him to the floor. If the opponent tries to sit up, you can stop him by pushing up at his stomach. If he attacks you with his hands, you can lock them. In Shaolin Kungfu this pattern is called "Old man Pushes Cart" (Lou Hon Thoui Chair"). How would you overcome this and other wrestling holds?
---
Please click the picture or the caption to view the video

Counters against Wrestling — Part 9 from Wong Kiew Kit on Vimeo.
LINKS
Overview
Courses and Classes