WRESTLING PRACTICE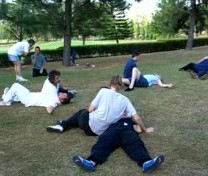 Wrestling Practice
Participants at the Advanced Combined Shaolin Taijiquan Course, most of whom are Shaolin Wahnam instructors, practice counters against various wrestling holds. The hold shown here is "Lohan Taking Noon Nap" and the counter is "Gold Coin Spinning on Ground".
---
Please click the picture or the caption to view the video

Counters against Wrestling -- Part from Wong Kiew Kit on Vimeo.
LINKS
Overview
Courses and Classes