SHAOLIN 16 BASIC COMBAT SEQUENCES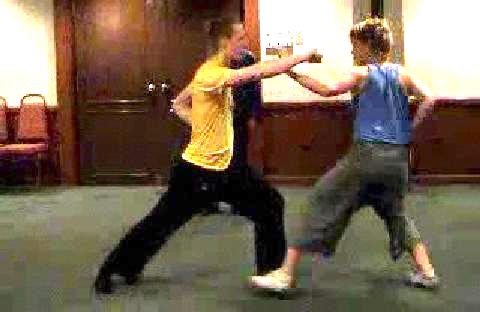 ---
It is amazing but true that all our Shaolin and Taijiquan students can apply their kungfu patterns spontaneously and correctly for combat. Intellectually there is nothing amazing about this fact. If one practices Shaolin Kungfu or Taijiquan, of course he would be able to apply Shaolin Kungfu or Taijiquan for combat. He may be defeated if his opponent is more skillful but he should at least be able to put up some defence using Shaolin Kungfu or Taijiquan.
But it is not the case today. Most Shaolin and Taijiquan practitioners today, including advanced practitioners, cannot use what they have learnt in Shaolin Kungfu or Taijiquan for combat! Some of them may be good at hitting their opponents, sometimes causing serious injuries, but they themselves would be routinely hit too in free sparring or real fighting. The situation has become so ridiculous that some instructors even say that if you cannot take some punches and kicks, how can you practice a martial art. This, of course, is not true. The very reason why one practices a martial art, any martial art, is not to be hit at all.
The key in our ability to apply our Shaolin Kungfu or Taijiquan for combat lies in our combat sequences. Three sets of the 16 basic Shaolin combat sequences are reproduced below. They are taken from Intensive Shaolin Kungfu Courses held in Sungai Petani in 2006 , in Sabah in 2009 and again in Sabah in 2010. Those who intend to attend any Intensive Shaolin Kungfu Course are advised to familiarize themselves with the forms of the 16 combat sequences before attending the course so that they can get best benefits in focusing on the skills.
Another set of the 16 combat sequences can be found here.
Solo practice of the 16 sequences and their respective sets can be found here.
Please note: you can download the video clips onto your own computer and view them at your leisure. Place your computer pointer at the picture or one of the links, and right click. Choose "Save Target As". Select the directory or sub-directory where you wish to keep the video clip. Click "Save".
Intensive Shaolin Kungfu Course, October 2006, Sungai Petani
You can view all the videos here
You can view all the videos here
---
Intensive Shaolin Kungfu Course, June 2009, Sabah
You can view all the videos here
You can view all the videos here
---
Intensive Shaolin Kungfu Course, July 2010, Sabah
You can view all the videos here
You can view all the videos here
LINKS
Courses and Classes