HISTORY AND PHILOSOPHY OF
36 SPECIFIC TECHNIQUE SET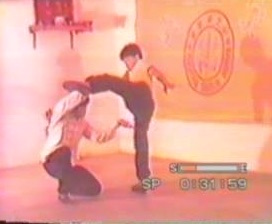 Grandmaster Wong demonstrated the 36 Specific Technique Set
---
When I was teaching at the Shaolin Wahnam Association, I taught the 36 Specific Techniques. A specific technique, known as "san shou" in Chinese (Cantonese), is how to overcome a combat situation using a kungfu technique. For example, if someone gives you a kick, what kungfu technique would you use to overcome it?
I was first inspired by a section, "Only Three Patterns", in a Chinese kungfu magazine, "New Martial Hero", which is now not operating. When I taught 36 Specific Techniques in Austria in 2017, I introducted some new specific techniques, especially on ground fighting like "Green Flog on Ground" and "Old Man Smokes Pipe".
Except in Intensive Shaolin Kungfu Course and in Intensive Taijiquan Course, I normally do not teach these specific techniques, mainly because our students already know them, and we have so much to teach.
Wong Kiew Kit
27th December 2018
LINKS
36 Specific Techniques -- Video
36 Specific Techniques -- Pattern Names
Courses and Classes