HISTORY AND PHILOSOPHY OF
SHAOLIN PAKUA SET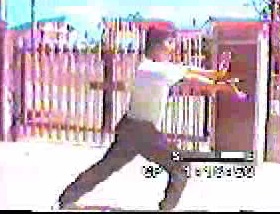 Sifu Goh Kok Hin, a senior disciple of Grandmaster Wong, performing the Pakua Set in 1980s
---
The Shaolin Pakua Set is different from Pakua Kungfu, commonly known as Baguazhang.
It was from this Shaolin Pakua Set that I had my "enlightenment" in kungfu combat application. I learned this Shaolin Pakua Set about 1971 from my third kungfu teacher, Grandmaster Ho Fatt Nam, the third generation successor from the Shaolin Monastery at Quanzhou in Fujian Province.
When I established Shaolin Wahnam Association in the 1980s, I taught this Pakua Set to a few students, like Goh Kok Hin and Cheong Huat Seng.
The Shaolin Pakia Set can be view here
Wong Kiew Kit
17th December 2015
LINKS
Overview
Courses and Classes