CRUSHING FIST OF PRAYING MANTIS KUNGFU IN PICTURES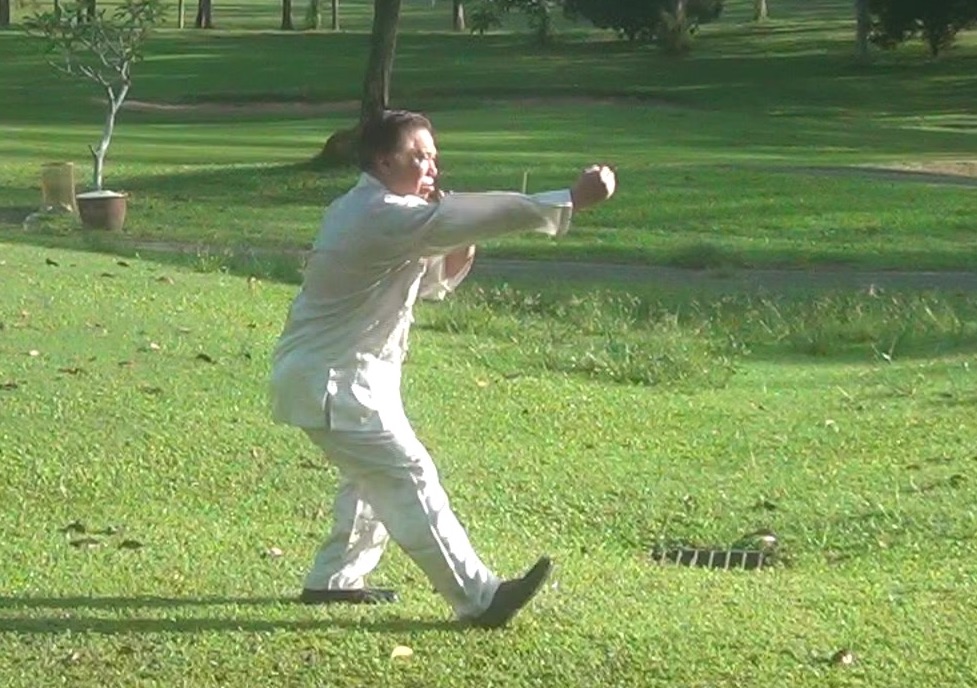 ---
---
The hallmark of "Crushing Fist" is pressing attack. As soon as an atack is completed, another attack follows. It does not give opponents any chance to escape. "Crushing Fist", which is a fundamental set in Praying Mantis Kungfu, focuses on "hard" force.
The pattern names are technical, and obvious to the initiated. But because of the difference between Chinese and English, the translated terms may appear strange to English speaking readers. "Ascend Mountain" refers to a Bow-Arrow Stance; "Ride Tiger" refers to a False-Leg Stance; and "Seven-Star" refers to the typical Seven-Star Stance of Praying Mantis Kungfu.
"Technical" means that the names of the patterns describe the techniques, rather than being poetic as in some Shaolin patterns. For example, "Ascend Mountain Right Punch" describes a technique of punching with a right fist at a Bow-Arrow Stance, instead of giving a poetic description like "Second Brother Offers Wine" in Northern Shaolin Tantui, or "Single Dragon Emerges from Sea" in Southern Shaolin Kungfu.
---
Sequence 1
| | |
| --- | --- |
| | |
| 1 Ready Position | 2 Ride Tiger Slant Punch |
| | |
| --- | --- |
| | |
| 3 Praying Mantis Catches Cicada | 4 Ascend Mountain Left Palm |
| | |
| --- | --- |
| | |
| 5 Ascend Mountain Right Pucch | 6 Jump and Cover Punch |
| | |
| --- | --- |
| | |
| 7 Enter Ring Press Elbow | 8 Enter Ring Hang Fist |
| | |
| --- | --- |
| | |
| 9 Kick Back Double Sweep Hands | 10 Horse-Riding Double Hand Lift |
Sequence 2
| | |
| --- | --- |
| | |
| 11 Ascend Mountain Chop Fist | 12 Hook Hand Right Thrust Punch |
| | |
| --- | --- |
| | |
| 13 Ride Tiger Turn Cart | 14 Ascend Mountain Left Palm |
| | |
| --- | --- |
| | |
| 15 Ascend Mountain Right Thrust Punch | 16 Horse-Riding Double Lift |
| | |
| --- | --- |
| | |
| 17 Single Leg Left Hook Hand | 18 Horse-Riding Right Chop Fist |
| | |
| --- | --- |
| | |
| 19 Sitting Stance Left Lift Elbow | 20 Ascend Mountain Left Elbow Strike |
| | |
| --- | --- |
| | |
| 21 Ascend Mountain Right Slant Palm | 22 Horse-Riding Left Thrust Punch |
Sequence 3
| | |
| --- | --- |
| | |
| 23 Double Hooks Left Sweep Leg | 24 Double Hooks Right Sweep Leg |
| | |
| --- | --- |
| | |
| 25 Ride Tiger Reverse Trap Hand | 26 Strike Eye Organ-Seeking Kick |
| | |
| --- | --- |
| | |
| 27 Single Leg Double Palm Hit | 28 Hook Hand Reverse Claw |
| | |
| --- | --- |
| | |
| 29 Single Leg Circular Punch | 30 Single Leg Bottom Fist Strike |
| | |
| --- | --- |
| | |
| 31 Single Leg Top Hand Fist | 32 Ascend Mountain Cover Palm Strike |
| | |
| --- | --- |
| | |
| 33 Reverse Cover Left Punch | 34 Smooth Cover Right Punch |
| | |
| --- | --- |
| | |
| 35 Lift Hand Reverse Strike | 36 Hook Hand Right Sweep Leg |
| | |
| --- | --- |
| | |
| 37 Slanting Body Right Wind Hit | 38 Hook Hand Right Sweep Leg |
Sequence 4
| | |
| --- | --- |
| | |
| 39 Hook Hand Left Sweep Leg | 40 Slant Body Left Wind Hit |
| | |
| --- | --- |
| | |
| 41 Seven Star Right Chop Waist | 42 Ascend Mountain Left Circular Punch |
| | |
| --- | --- |
| | |
| 43 Ascend Mountain Left Hand Fist | 44 Seven Star Left Hook Hand |
| | |
| --- | --- |
| | |
| 45 Seven Star Right Thrust Punch | 46 Praying Mantis Catches Cicada |
| | |
| --- | --- |
| | |
| 47 Collect Chi from Cosmos | 48 Flowing Breeze Swaying Willws |
LINKS
Crusing Fist in Video
Courses and Classes