TAIJIQUAN COMBAT SEQUENCE 9: BLACK BEAR SINKS HIPS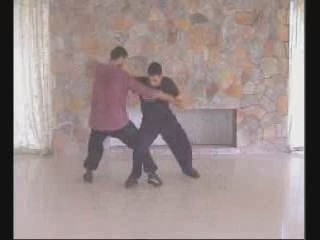 Taijiquan Combat Sequence 9 — Black Bear Sinks Hips
After warding off Jeffrey's attack, Javier moves in to throw Jeffrey using the pattern "Carry Tiger Back to Mountain". Jeffrey responds with "Black Bear Sinks Hips".
If Javier is not well trained, he would find himself thrown on the ground instead! It would not be easy for the uninitiated to understand how this could happen. To neutralize Jeffrey's throw (which may not be obvious to many people), Javier also uses "Black Bear Sinks Hips".
Jeffrey then attacks with a knee strike, using the Taijiquan pattern "Golden Cockerel Stands Solitarily". Javier responds with "Move, Ward Off and Punch", as in Sequence 8.
The Taijiquan techniques shown in this video clip are very useful against opponents using Judo and Muay Thai.
---
You can view all the videos above by clicking the picture or caption below

Taijiquan Combat Sequence 9 -- Black Bear Sinks hips from Wong Kiew Kit on Vimeo.
LINKS
Overview
Old Version of Taijiquan Twelve Combat Sequences
Revised Version of Taijiquan Twelve Combat Sequences
Courses and Classes