BRICK BREAKING GALORE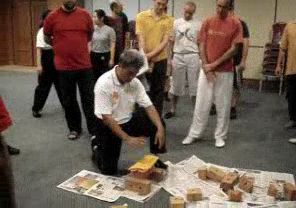 ---
---
During the Chi Kung Healing Course from 10th to 16th April 2008 in Penang, Malaysia, Sifu Wong Chun Nga brought some bricks, sugar cane and eggs for the Shaolin Wahnam instructors present to have some fun.
The video clips here show the Shaolin Kungfu and Wahnam Taijiquan instructors breaking bricks with ease. It is interesting to note that most of them have not done any hard conditioning like hitting sandbags, and many of them attempted breaking bricks the first time. Some of them are over 50 years old. It is good evidence showing the reality of internal force.
Please note
that you can download the video clips onto your own computer and view them at your leisure. Enter the webpage (not this one) where the selected video clip can be downloaded. Place your computer pointer at the picture or one of the links, and right click. Choose "Save Target As". Select the directory or sub-directory where you wish to keep the video clip. Click "Save".
---
Please click on the pictures or captions to view the videos
---
Please click the pictures or the captions below to view the videos

Who Says Taijiquan is Soft?

Who Says Taijiquan is Soft? from Wong Kiew Kit on Vimeo.


Using Internal Force to Break Bricks

Breaking Bricks with Internal Force from Wong Kiew Kit on Vimeo.
LINKS
Special Standardized Test 2008
Breaking the Bottom Brick
Breaking Sugar-Cane on Eggs
Courses and Classes