GREEN DRAGON CRESCENT MOON GUAN DAO PERFORMED BY GRANDMASTER WONG IN THE 1980S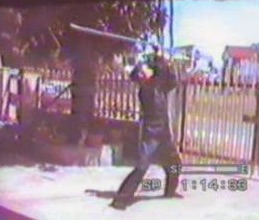 Green Dragon Crescent Moon Knife
---
---
This is a famous Guan Dao set known as Green Dragon Crescent Moon Knife from Uncle Righteousness lineage. Grandmaster Wong learned this set in the 1970s from his siheng (elder kungfu brother) who specially went to Soon Tuck Wooi Koon in Penang (Association of People from Soon Tuck District of South China, where Grandmaster Wong had his first kungfu lessons in the 1950s) to teach him.
Guan Dao (Kuan Tou in Cantonese), which means Guan Knife, is a long, heavy weapon. It is named after Guan Yu, a great warrior of the Three-Kingdom Period in Chinese warring history. Guan Yu is now worshipped as the God of Righteousness.
---
Please chick the pictures or the captions below to view the videos
---
---
We wish to thank Sifu Robin Gamble for recovering these video clips
---
Please click the picture or the caption below to view the video

Green Dragon Cresent Moon Guan Dao 1980s from Wong Kiew Kit on Vimeo.
LINKS
Picture Series of the Set
Shaolin Wahnam in the 1980s
Guan Dao performance by Grandmaster Wong in 2006
Guan Dao demonstrated by Grandmaster Wong in 2016
Courses and Classes