GLIMPSES OF ASKING BRIDGE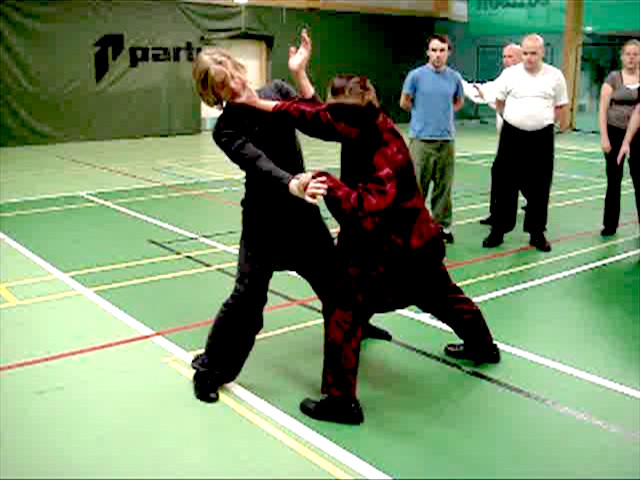 ---
Impressed by the efficiency of "Pushing Hands" in Taijiquan in developing combat skills, some students have asked whether there is similar training in Shaolin. Yes, there is, and it is called "Asking Bridge". It is actually found in our Shaolin training though it is not specifically defined in the syllabus.
Grandmaster Wong conducted a special course on Asking Bridge at Sarriselka, Finland from 10th to 14th January 2011. The course also included Taijiquan Pushing Hands, Wing Choon Chi Sao and Wuzu Kneading Hands, and revealed many close secrets.
Only some glimpses of the course are shown here. Course participants and certified Shaolin Wahnam instructors who wish to view the private videos of the course are requested to contact Sifu Markus Kahila.
An illuminating discussion of the Flower Set and Asking Bridge can be found here .
18th January 2011, Sungai Petani.
---
You can also view the videos here
---
Please note: you can download the video clips onto your own computer and view them at your leisure. Place your computer pointer at the picture or one of the links, and right click. Choose "Save Target As". Select the directory or sub-directory where you wish to keep the video clip. Click "Save".
Developing Sensing Skills
Sticking Hands and Pushing Hands
Asking Bridge
Kneading Hands
Fierce Tiger
Conditional Free Sparring
Chi Flow and Philosophy
Even If Weaker
Whirlwind Kick
Swimming Dragon
Secrets of Choy-Li-Fatt
Footwork Secrets
Enjoying Free Sparring
LINKS
Four Sequences of Asking Bridge
Videos of Asking Bridge
Courses and Classes