KWAN DAO SET BY SIFU WONG — OLD VIDEO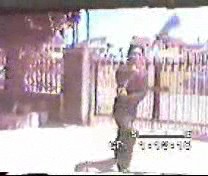 Kwan Tao Set — Old Video
Kwan Tao is a Chinese term meaning "Big Knife of Kwan Yu". A Big Knife is a classical weapon with a huge blade attached to a long shaft. Kwan Yu was a famous warrior in classical China well known for using a Big Knife, who is now deified as the God of Righteousness.
The basis of this Kwan Tao set was taught by Sigung Lai Chin Wah, popularly known as Uncle Righteousness, but Sifu Wong has made some modifications to this set. Stable stances and good force are basic requirements for applying the Kwan Tao well.
The size of the video clip is 2.27 MB.
Click here to download.
---
You can also view the video by clicking on the picture of the caption below

Green Dragon Crescent Moon Guan Dao or Kwan's Big Knife in 1980s from Wong Kiew Kit on Vimeo.
LINKS
Courses and Classes