TRAINING FOR SPONTANEOUS RESPONSES IN FREE SPARRING AND REAL FIGHTING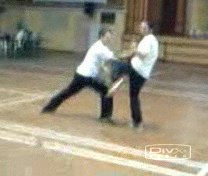 Training for Spontaneous Responses in Free Sparring and Real Fighting
Can the pre-arranged sequences be useful for combat where attacks are random. Of course. The pre-arranged sequences are for training purposes. The validity of this statement is proven in video clips showing free sparring in another video series.
---
Please click the picture or the caption below to view the video

Spontaneous Response in Free Sparring and Real Fighting from Wong Kiew Kit on Vimeo.
LINKS
Overview
Courses and Classes