UNDERSTANDING TECHNIQUES AND SEQEUCNES WITH INSIGHT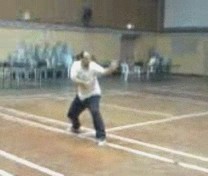 understanding Techniques and Sequences with Insight
Many kungfu practitioners merely perform their kungfu patterns without understanding what the patterns mean. Joshua, like all other course participants, knows exactly what the patterns are and why they are arranged in those particular ways, because he himself chooses the patterns to compose them into combat sequences to meet certain combat situations. The patterns are selected from his specialized set, the Shaolin Five Animals.
---
Please click the picture or the caption below to view the video

Understanding Techniques and Sequences with Insight from Wong Kiew Kit on Vimeo.
LINKS
Overview
Courses and Classes