COMBAT APPLICATIONS OF THE MONKEY SET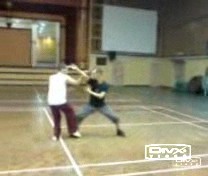 Combat Applications of the Monkey Set
As Chris is the only Monkey stylist in the course, Sifu Markus who specializes in the Dragon Form Set plays the opponent's role. Notice that the Monkey uses soft, gentle movements to minimize the opponent's force. Sifu Wong shows a tricky Monkey attack on the opponent's throat and ribs.
---
Please click the picture or the caption below to view the video

Combat Applications of Monkey set from Wong Kiew Kit on Vimeo.
LINKS
Overview
Courses and Classes