IMPROVEMENT TO ENHANCE COMBAT EFFICIENCY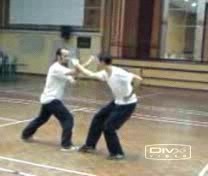 Improvement to Enhance Combat Efficiency
Sifu Wong points out a weakness in one of the movements, and suggests an improvement. Joshua can perform the sequence suggested by Sifu Wong after being told only once. This is due both to his mental clarity as well as his systematic training. Another interesting aspect is that the course participants, despite having sparred for hours, are not panting or tired.
---
Please click the picture or the caption below to view the video

Improvement to Enhance Combat Efficiency from Wong Kiew Kit on Vimeo.
LINKS
Overview
Courses and Classes