THE TIGER-TAIL KICK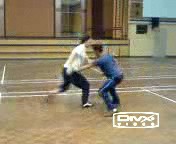 The Tiger-Tail Kick
Innes and Davies show some interesting applications of the Tiger-Crane Set. The famous Tiger-Tail Kick is demonstrated, and Davies counters the kick skillfully. At the end of the video clip, Davies acts as a Western Boxing exponent. Notice that it is relatively easy to counter a Boxer or a Kick-Boxer, a fact many of the participants have discovered at the course itself.
---
Please click the picture or the caption below to view the video

Tiger-Tail Kick in Shaolin Kungfu from Wong Kiew Kit on Vimeo.
LINKS
Overview
Courses and Classes