ATTACKING THE SIDES OR BACK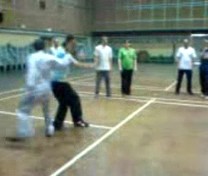 Attacking the Sides and Back
Sifu Wong shows Hubert and Jonny, assistant instructors from Shaolin Wahnam England and Scotland respectively, how to move in to attack from the sides or the back. Sifu Wong reminds them that while moving in to initiate an attack, they should always be ready for the opponent's surprised counters. At higher levels, they may tempt their opponent to counter-attack.
---
Please click the picture or the caption below to view the video

Attacking the Sides or Back in Shaolin Kungfu from Wong Kiew Kit on Vimeo.
LINKS
Overview
Courses and Classes