DIFFERENT SPEED AND USE OF FEINTS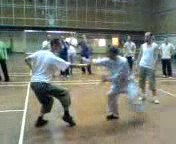 Different Speed and Use of Feints
Sifu Markus Kahila of Shaolin Wahnam Finland demonstrates the use of different speeds and angles while moving in. Then Sifu Wong shows Chris of Shaolin Wahnam Scotland, who specializes in the Monkey Set, how to use feint moves to trick his opponent, arousing much laughter amongst the participants.
---
Please click the picture or the caption below to view the video

Different Speeds and Use of Feints in Shaolin Kungfu from Wong Kiew Kit on Vimeo.
LINKS
Overview
Courses and Classes