MOVING IN TO LET AN OPPONENT INITIATE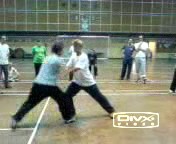 Moving in to Let an Opponent Initiate
Jamie, an assistant instructor of Shaolin Wahnam Scotland, shows two ways of moving in. He moves in to let the opponent hold him, and he follows up accordingly. Sifu Wong explains that this tactic is flawed as the opponent may attack in other ways apart from holding. Nevertheless, if this flaw is rectified, it can be a good tactic in moving in. His second tactic of "sounding east striking west" is effective.
---
Please click the picture or the caption below to view the video

Moving in to Let an Opponent Initiate from Wong Kiew Kit on Vimeo.
LINKS
Overview
Courses and Classes