VARIETY OF RESPONSES (2)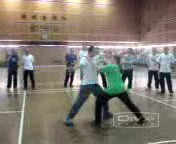 Variety of Responses (2)
Nicky from Shaolin Wahnam England and Ronnie from Shaolin Wahnam Switzerland show how they can counter-strike an opponent's initial attack without moving away from their position. Laughter is a common feature in Shaolin Wahnam, even during combat training.
---
Please click the picture or the caption below to view the video

Variety of Responses in Shaolin Kungfu from Wong Kiew Kit on Vimeo.
LINKS
Overview
Courses and Classes