COVERING OR FLICKING FOR SAFETY FIRST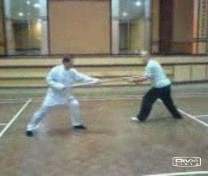 ---
Why do we "cover" or "flick" the opponent's staff when, at an advanced level, we can pierce him? One good reason is that we want to be safe first. Later, I show that if I am sure to be safe I don't need to "cover" or "flick" before piercing.
---
Please click the picture or the caption below to view the video

Covering or Flicking for Safety First from Wong Kiew Kit on Vimeo.
LINKS
Overview
Courses and Classes