ALONG THE BRIDGE OR FLOWING WITH WATER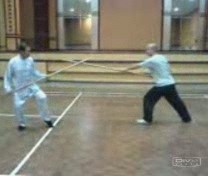 ---
If the opponent covers or flicks away my staff, I "leak" around his staff and flow in. This is flowing with water. When he thrusts his staff at me, I cover or flick away his attack, and go over his staff to strike him. This is going along the bridge.
---
Please click the picture or the caption below to view the video

Along the Bridge or Flowing with Water from Wong Kiew Kit on Vimeo.
LINKS
Overview
Courses and Classes