THE AMAZING TECHNIQUE OF CIRCLING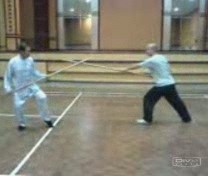 ---
I make a few thrusting attacks to set a momentum for Simon to cover or flick. Then I circle my staff around his to strike him.
---
Please click the picture or the caption below to view the video

The Amazing Technique of Circling from Wong Kiew Kit on Vimeo.
LINKS
Overview
Courses and Classes