HITTING THE OPPONENT'S HAND OR WRIST TO DISARM HIM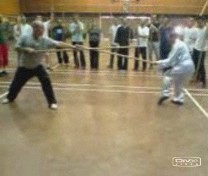 ---
Here I reverse the tactic. I set the momentum for covering and flicking away Simon's thrusts, then suddenly hit his hand or wrist with the tip of my staff, followed by a thrust to his heart (not shown in the video) for the coup-de-grace.
---
Please click the picture or the caption below to view the video

Hitting the Opponent's Hand or Wrist to Disarm Him from Wong Kiew Kit on Vimeo.
LINKS
Overview
Courses and Classes