COMBAT APPLICATION OF DA LOHAN QUAN (1)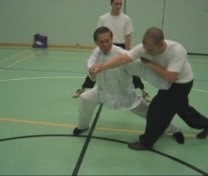 Many students may not realize that bringing the fists to both sides of the waist has martial functions. As explained by Sifu Wong here, every movement in a kungfu set has combat application. Sometimes, one may need to modify some movements, like using the right side instead of the left side as in the set, to suit the combat situation.
---
Please click the picture or the caption to view the video

Combat Application of Da Lohan Quan (1) from Wong Kiew Kit on Vimeo.
LINKS
Overview
Courses and Classes