COMBAT APPLICATION OF DA LOHAN QUAN (2)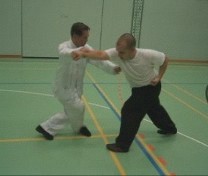 This video clip is a continuation of the previous one where Sifu Wong demonstrates a deadly application of a seemingly innocent move of bringing two hands parallel together. Students practicing this application need to be very careful not to hurt their training partner. Next Sifu Wong shows the tactic of striking an opponent when his attack is just spent, without blocking his attack but by moving away. Then Sifu Wong shows a deadly kicking technique.
The size of the video clip is 2.540 MB.
Click here to download.
LINKS
Overview
Courses and Classes