COMBAT APPLICATION OF DA LOHAN QUAN (3)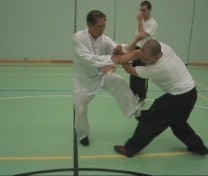 If your opponent holds your hands, an effective counter is to release his grip by "sinking", then strike him with a palm thrust or a palm strike. Another effective counter is to kick him while releasing his grip.
---
Please click the picture or the caption to view the video

Combat Application of Da Lohan Quan (3) from Wong Kiew Kit on Vimeo.
LINKS
Overview
Courses and Classes