COMBAT APPLICATION OF DA LOHAN QUAN (4)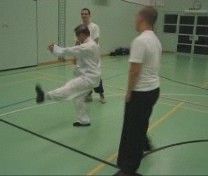 Sifu Wong demonstrates how a pattern which may appear flowery can be used in a sophisticated manner to lock an opponent's leg and hand and simultaneously strike him. Another innocent-looking pattern can be used to released a grip and simultaneously counter-strike the opponent.
---
Please click the picture or the caption to view the video

Combat Application of Da Lohan Quan (4) from Wong Kiew Kit on Vimeo.
LINKS
Overview
Courses and Classes