COMBAT APPLICATION OF DA LOHAN QUAN (5)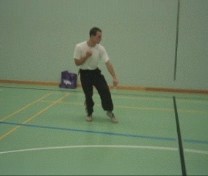 First Sifu Wong demonstrates an elbow strike. Then he shows how he may press in to attack the opponent, causing the opponent to be in such an awkward situation that the on-lookers laugh. Sifu Wong also shows how he can use other patterns from Xiao Hung Quan to respond if the opponent counter-attacks.
---
Please click the picture or the caption to view the video

Combat Application of Da Lohan Quan (5) from Wong Kiew Kit on Vimeo.
LINKS
Overview
Courses and Classes