REVERSE HITTING OF PURPLE BELL OF SABRE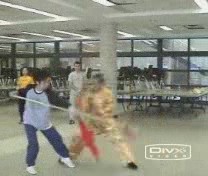 Application of Single Knife against Spear
The upward slash and the reversed slash are two of the most formidable techniques of the Single Knife (often called a Broadsword in some literature). This video clip, taken randomly during the Special Shaolin Kungfu Course in Toronto in 2003, shows Sifu Wong demonstrating these two Single Knife techniques using the patterns "Bail Moon from Sea" and "Reversed Hitting of Purple Bell". After Michael Chow has avoided the first upward slash, Sifu Wong continues instantly with the second reversed slash of the Single Knife. It is important to control the spear while transiting from the upward slash to the reversed slash.
---
Please click the picture or the video below to view the video

Reverse Hitting of Purple Bell of Sabre from Wong Kiew Kit on Vimeo.
LINKS
Overview
Courses and Classes