FIERCE TIGER DESCENDS MOUNTAIN OF SABRE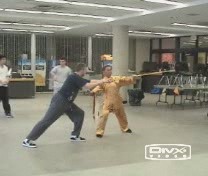 Application of Single Knife against Spear
The horizontal sweep is another formidable technique of the Single Knife. After deflecting a spear thrust, Sifu Wong grips the spear shaft and simultaneously horizontally sweep his Single Knife at his opponent, using a pattern called "Horizontally Sweeping a Thousand Armies".
---
Please click the picture or the video below to view the video

Fierce Tiger Descends Mountain of a Sabre from Wong Kiew Kit on Vimeo.
LINKS
Overview
Courses and Classes