COVERING YOUR OPPONENT'S SPEAR WITH YOUR SABRE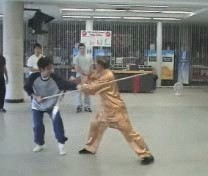 Application of Single Knife against Spear
Matching the Single Knife against the Spear is an important and very interesting aspect in kungfu weapon training. The spear is light and long, making it extremely fast and versatile and its thrust a very deadly technique. In any attack against a spear holding opponent, it is essential to "cover" this deadly aspect of the spear. Sifu Wong demonstrates how this can be done. He also shows the danger one would expose himself to if he does not "cover" the spear adequately while moving in to attack.
---
Please click the picture or the video below to view the video

Covering your Opponent's Spear with your Sabre from Wong Kiew Kit on Vimeo.
LINKS
Overview
Courses and Classes