FROM SITTING IN A WHEEL-CHAIR TO WALKING IN A STREET
General Muscular Atrophy can be Overcome
Sifu Laura Fernaindez Garrido
Instructor, Shaolin Wahnam Spain
---
---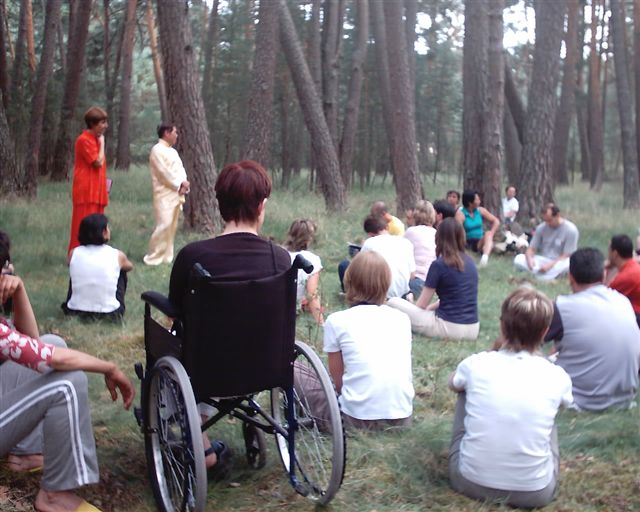 Laly sitting in a wheel-chair. Standing in the background are Grandmaster Wong teaching and Sifu Laura translating.
---
The following letter was sent to Grandmaster Wong from Sifu Laura Fernaindez, who herself has helped many students recover from so-called incurable illness, about a student, Laly, who progressed from sitting in a wheel-chair to walking in the street.
---
Dear Sifu,
I would like to give a testimony from a student of yours, Laly.
She came to your regional chi kung course in Soria, Spain, in a wheel-chair, helped by a good friend of hers. Her doctor didn't know why she was getting general muscular atrophy that had made her unable to walk, unable to stand up by herself, and even her arms and hands were twisted.
She was in the wheel-chair in the field where we were preparing to do the dynamic chi kung patterns and you told her to stand up with the help of a tree trunk. She stood with her back on the tree trunk and did her best for the pattern "Lifting the Sky".
She has been practicing as best as she could and after a few months she sent me her photo walking in a street with her friend's help and she is very, very happy and grateful to you for her recovering is better and better each day.
I am attaching two photos, one with her in the wheel-chair prior to her standing up against a tree and another showing her walking in the street.
Thank you, Sifu, for a beautiful course and for your generosity to share with us your fantastic "secrets" during the Chi-Kung Healing Course in Malaysia.
Thanks for another beautiful course in El Escorial.
See you again in summer.
All the best.
Laura
---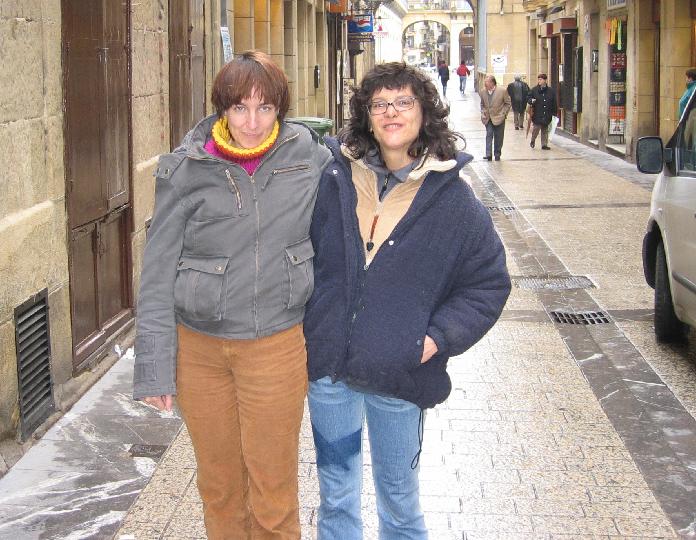 Laly walking in the street with the help of a friend
LINKS
Courses and Classes