LIFE IS TO LIVE IT
Alejandra Ibez Diaz
Mexico
---
---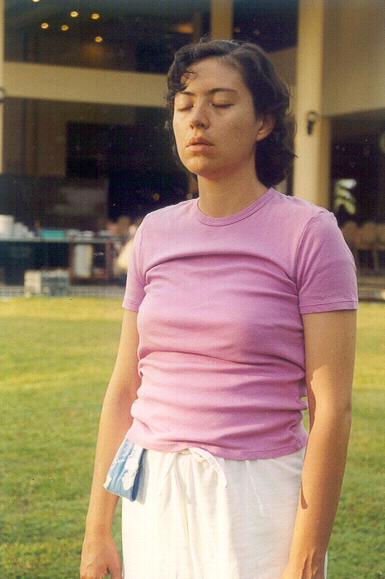 An experience of inner peace -- Alejandra in Standing Meditation
---
Life is to live it, not theoretically but with your entire being.
-- Alejandra Ibez Diaz
---
Comments on the July 2003 Chi Kung Course
It is difficult to put in words what I have experienced the last few days. This is the second course I attend. The first one was an amazing journey to discover Chi Kung, and the first step to experience what life is really about.
The most wonderful thing I have experienced in this second course is a wonderful joy and internal peace. I am still on my way of healing myself and even though I sometimes may get through difficulties I know I can still keep joy which gives me the strength to carry on.
Now it is easier for me to smile and feel relaxed when I have to deal with a difficult situation. I can use my skills in a better way and start to discover new ones.
Sometimes I have come across the words "one should not accept things just as an act of faith but through self experience" and now I understand their meaning. Life is to live it, not theoretically but with your entire being. This makes your inside vibrate, and you feel that you are connected to everything, and it brings joy and happiness.
Sifu Wong, it is so difficult not to learn this wonderful Art of Chi Kung and experience joy when we can see you smiling from the heart.
With profound respect and admiration,
Thank you.
Alejandra Ibez Diaz,
Mexico..
11th July 2003.
---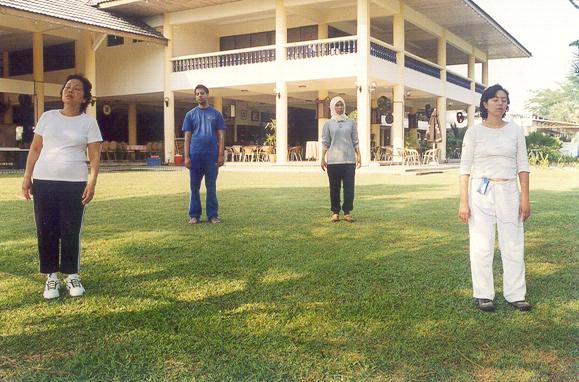 Alejandra (far right) and other students enjoying a chi flow during the Intensive Chi Kung Course in July 2003
LINKS
Courses and Classes