HISTORY AND PHILOSOPHY OF
CLOUD HANDS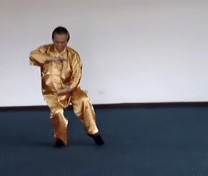 "Carrying the Cosmos" in Cloud Hands
---
When I was asked to teach Taijiquan in a few hours to a group of Shaolin Wahnam students in Spain in the early 2000s, I had to compose a short Taijiquan set that fulfilled the following objectives:
The movements must look like Taijiquan as conceptualized by most people.
The set or part of it could enable practitioners to develop internal forc.e
The set or part of it could enable practitioners to defend themselves against all the four categories of attack, namely striking, kicking, felling and chin-na.
Practicing the set or part of it enables practitioners to benefit according to their different levels of attainment.
The set provides opportunities for future development.
The result was "Cloud Hands".
Later I used "Cloud Hsnds" as a basic set in a VIP Taijiquan Course in 2005 where all participants were presidents or vice-presidents of international corporations, and their families. It fulfilled the following objectives:
It needs a relatively short time to learn and practice the set well, which is suitable for VIPs.
Participants experienced chi flow that can help them overcome illness and maintain good health, vitality and longevity.
They developed internal force for peak performance, or for combat if necessary.
They can practice just a pattern or a short sequence from the set daily for about 10 minutes to derive incredible benefits.
During the course it was interesting to see petite wives throwing their hefty husband about -- and both the wives and the husbands enjoyed it.
Wong Kiew Kit
18th December 2015
LINKS
Cloud Hands in Video in early 2000s
Cloud Hands in Pictures in early 2000s
Cloud Hands in Video in 2015
Cloud Hands in Pictures in 2015
Free Sparring using Cloud Hands
Courses and Classes