HISTORY AND PHILOSOPHY OF
DRAGON-TIGER SET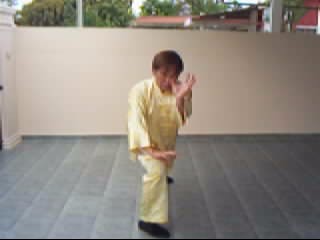 Grandmaster Wong performing the Dragon-Tiger Set
---
The Dragon-Tiger Set was the first kungfu set composed by me about 1968 in Dungun, Malaysis in response to teaching Shaolin Kungfu to a student.
At that time I had learned only from Uncle Righteousness, and had become quite well known in kungfu circles. I had not learned from my other three teachers.
In Uncle Righteousness' kungfu lineage, the Dragon and the Tiger are the most frequently used of the Shaolin Five Animals. The Dragon trains "shen' or mind, and the Tiger trains "gu" or internal force.
When I wrote my first kungfu book, "Introduction to Shaolin Kung Fu", I used the Dragon-Tiger Set as the base.
The Dragon-Tiger set can be found here.
Wong Kiew Kit
17th December 2015
LINKS
Overview
Courses and Classes