SHAOLIN DRAGON-TIGER SET
少林龍虎拳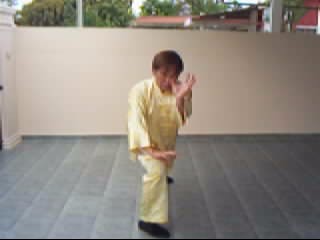 Shaolin Dragon-Tiger Set by Sifu Wong
The Dragon and the Tiger are two important forms of Shaolin Kungfu with emphasis on the training of mind and energy respectively. Dragon and Tiger patterns are as effective for combat as they are beautiful to watch. This set, demonstrated here by Sifu Wong on 3rd February 2006, is a "pattern-set" (in contrast with a "sequence-set") as it is made up of individual patterns rather than combat sequences. Exponents need to compose combat sequences from the patterns for effective fighting. In kungfu terminology, pattern-sets are called "mother-sets", or seed-sets, from which "children-sets" which are sequence-sets are issued.
The size of the video clip is 2.52 MB.
Click here to download.
---
Please click the picture or the caption below to view the video

Shaolin Dragon-Tiger Set from Wong Kiew Kit on Vimeo.
LINKS
Courses and Classes