HISTORY AND PHILOSOPHY OF
CROSS ROADS AT FOUR GATES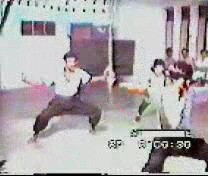 An old video showing Four Gates in the 1980s
---
Because of their long history, there were different fundamental sets at the various Shaolin Temples. A fundamental set was a kungfu set practiced by all Shaolin martial monks, and it formed the foundation upon which future development would depend.
The fundamental set at the Shaolin Temple at Quanzhou at the time when it was burnt to the ground by the Qing Army was "Cross Roads at Four Gates", or "Shi Zhi Si Meng Quan" in Chinese. It was transmitted by the Venerable Jiang Nan to Yang Fatt Khun to Ho Fatt Nam then to me. This set is now taught in our school, Shaolin Wahnam Institute.
A few years ago when I was examining pictures of Shaolin murals, I was surprised to find similarities between the murals and "Cross Roads at Four Gates". You can read about this surprised discovery here.
"Cross Roads at Four Gates", or "Four Gates" for short, looks simple, but its combat application is profound. The set can be appreciated at different levels.
The set can be viewed here, and its application here.
Wong Kiew Kit
17th December 2015
LINKS
Overview
Courses and Classes